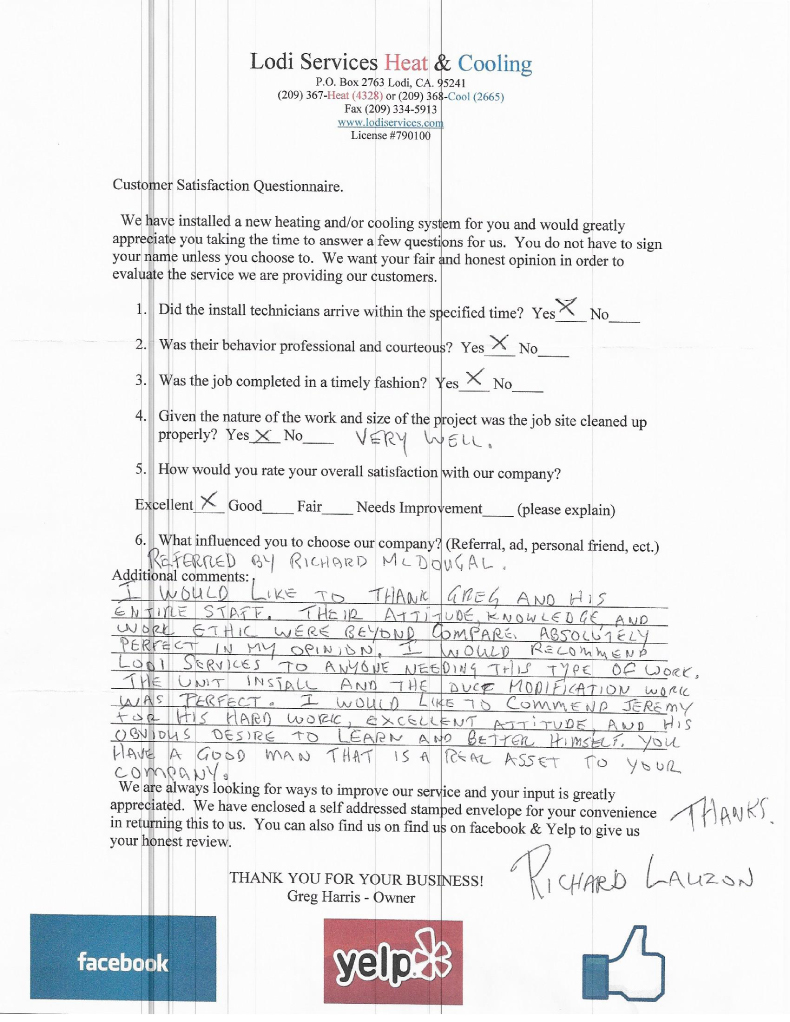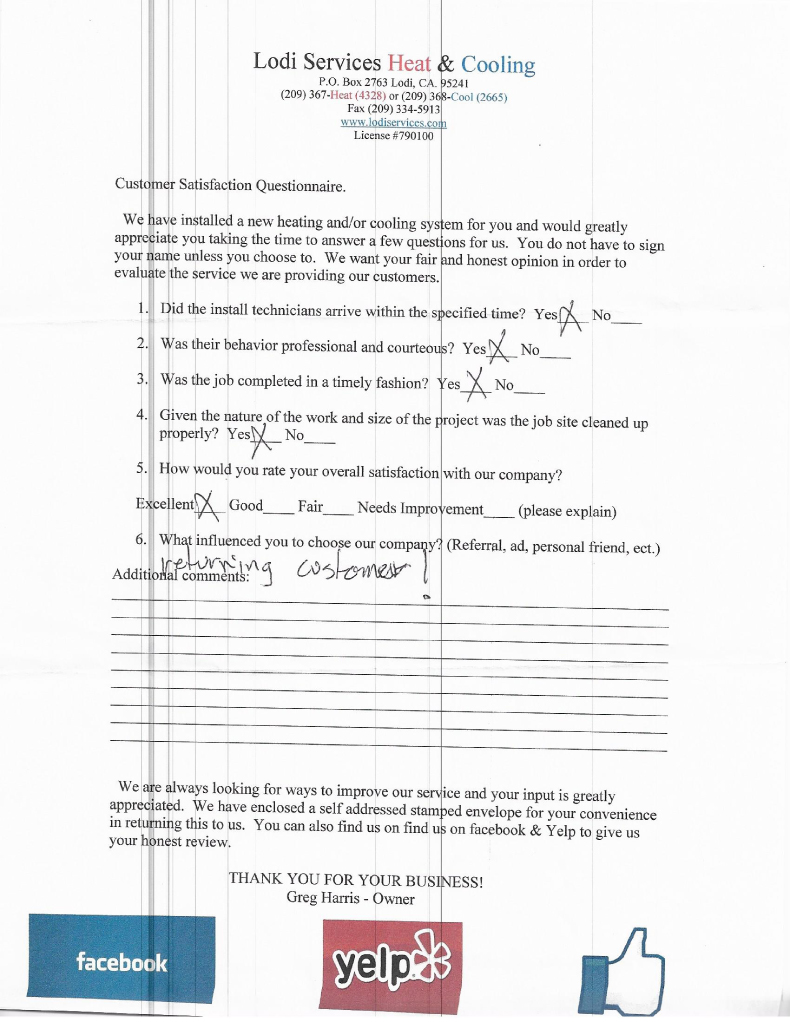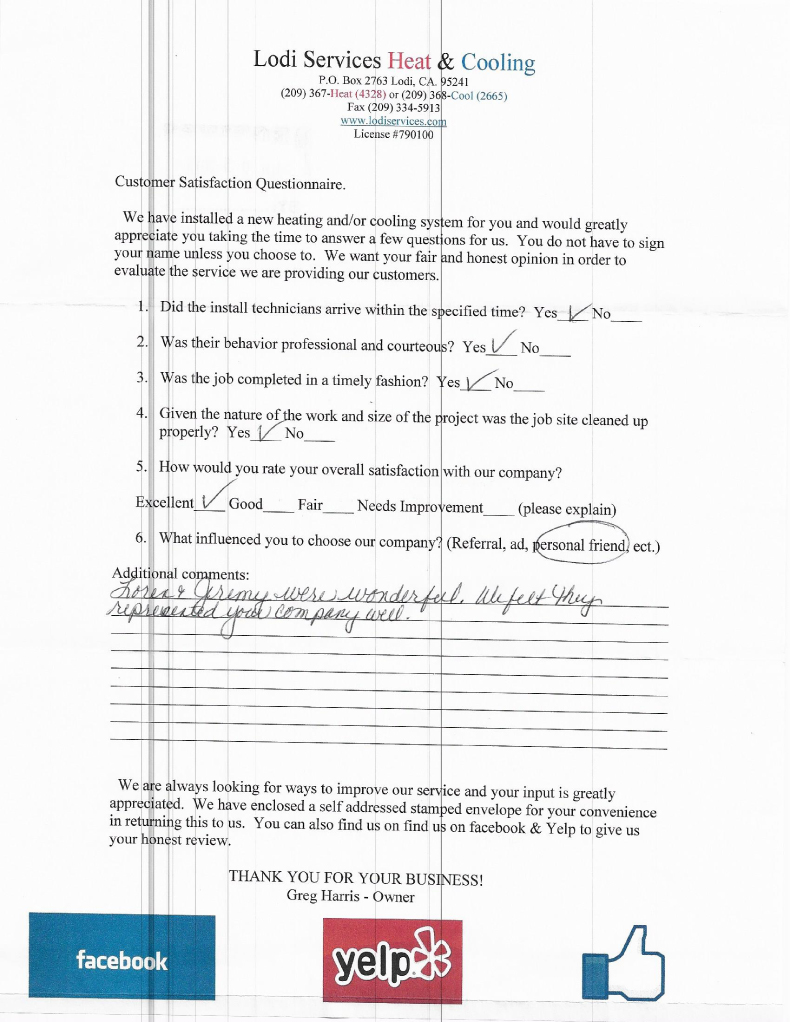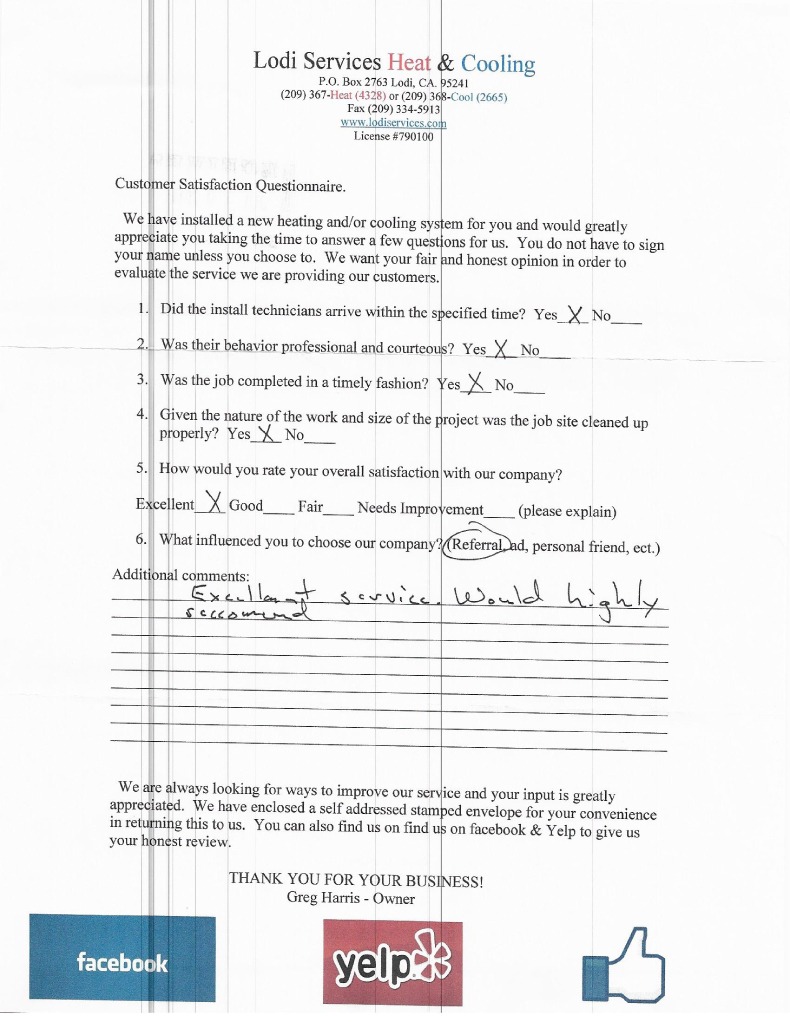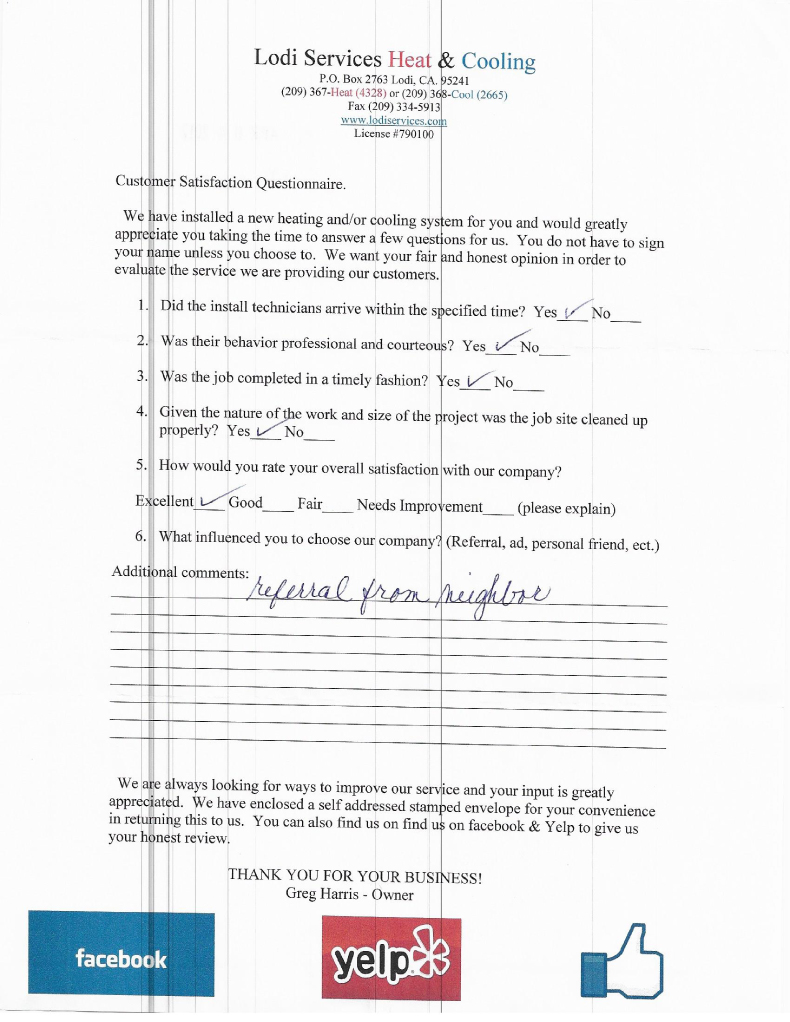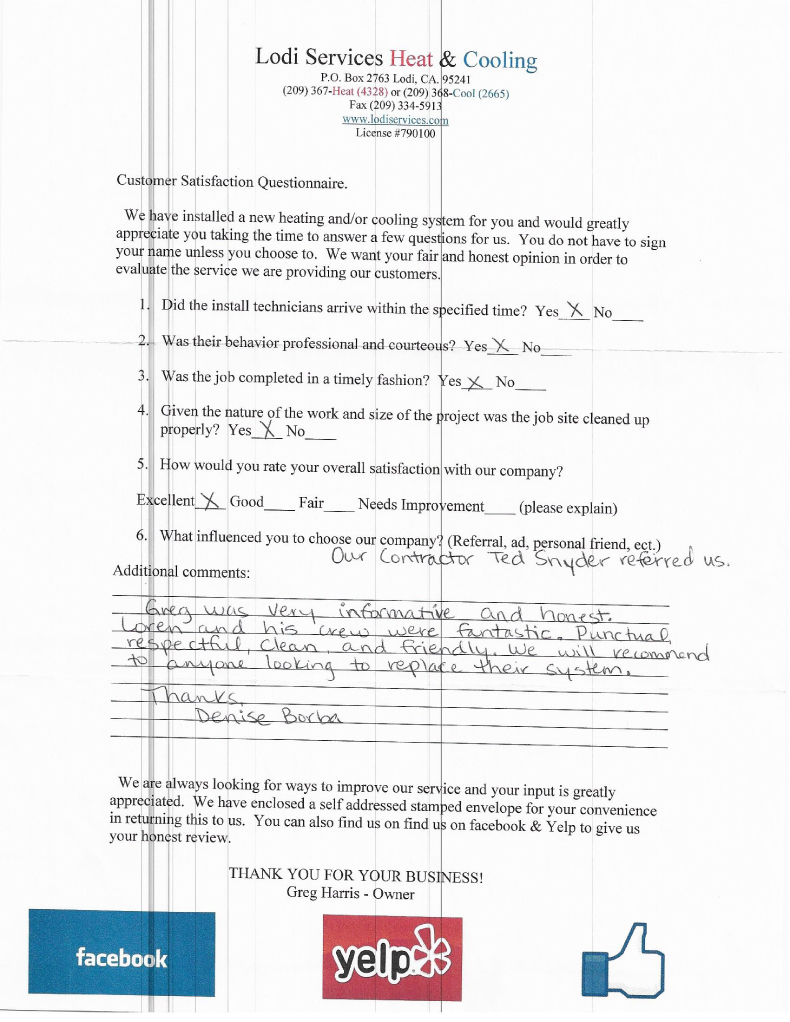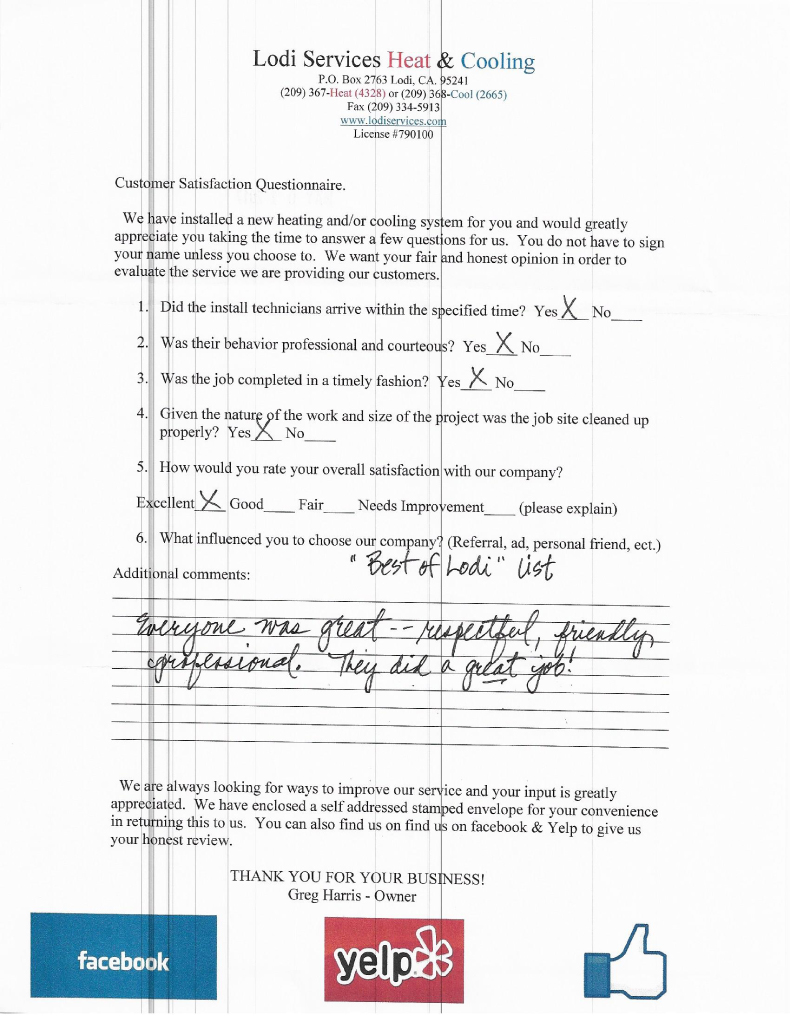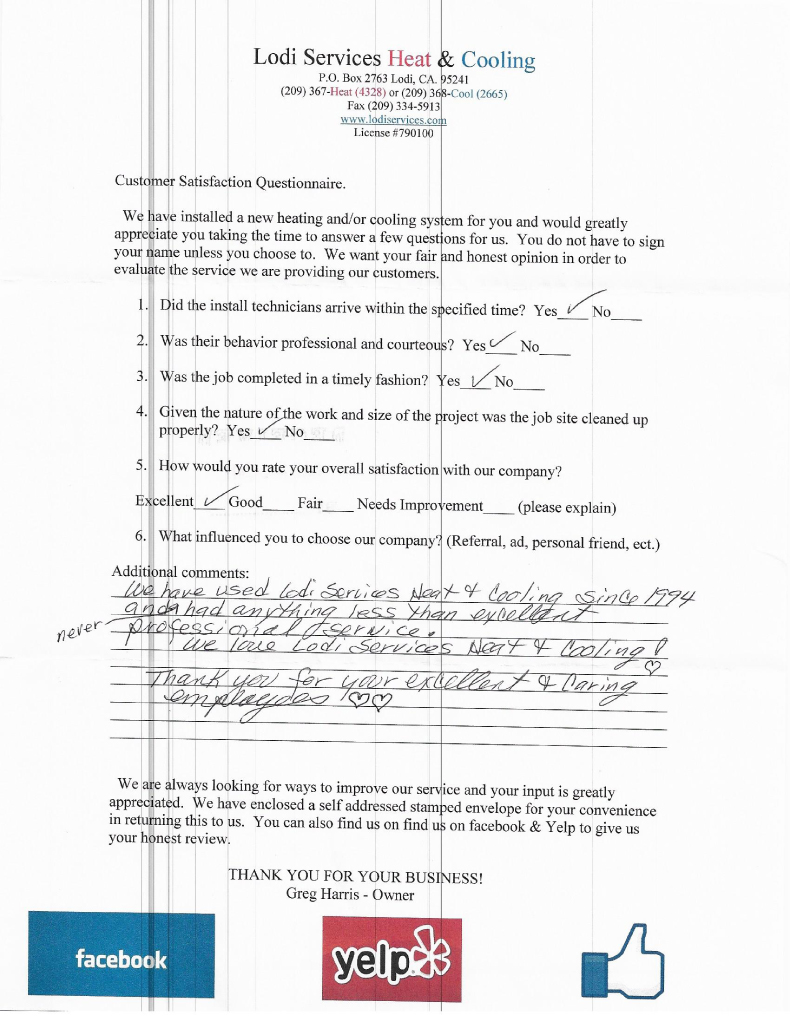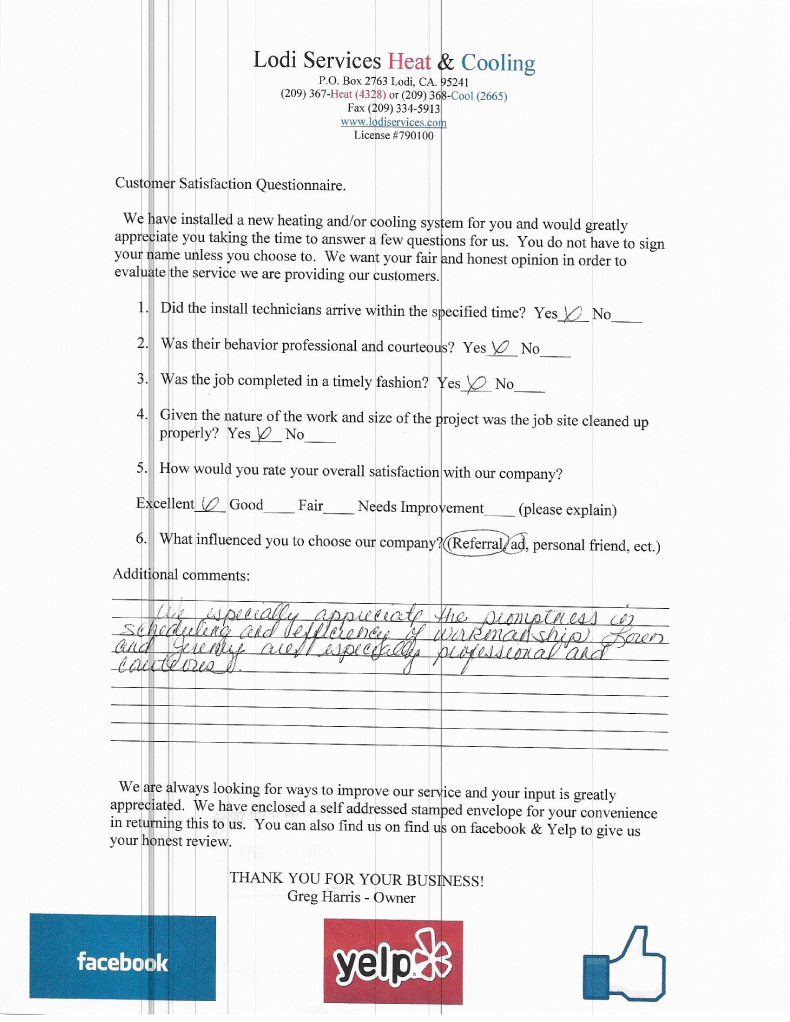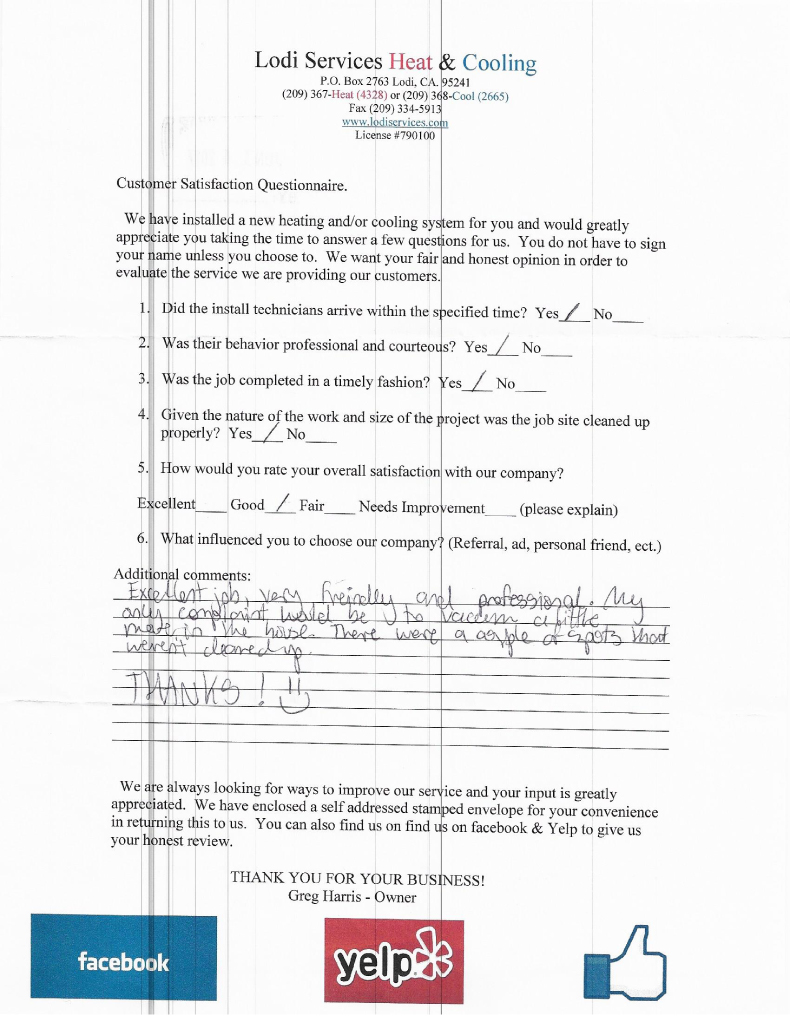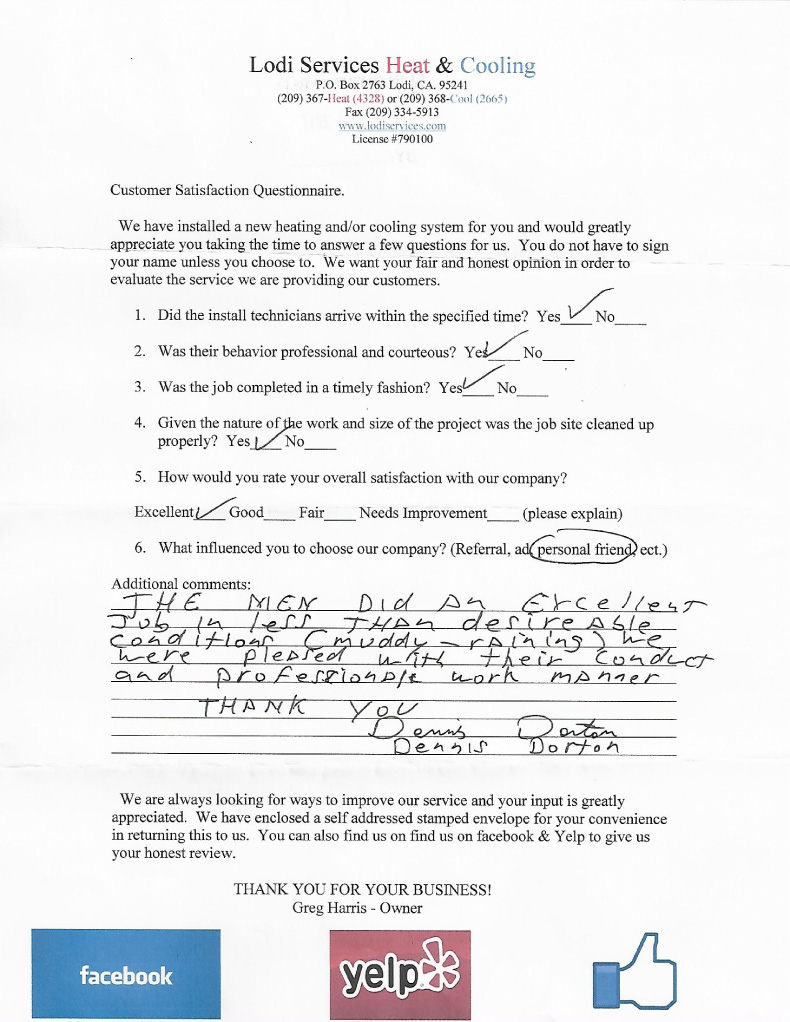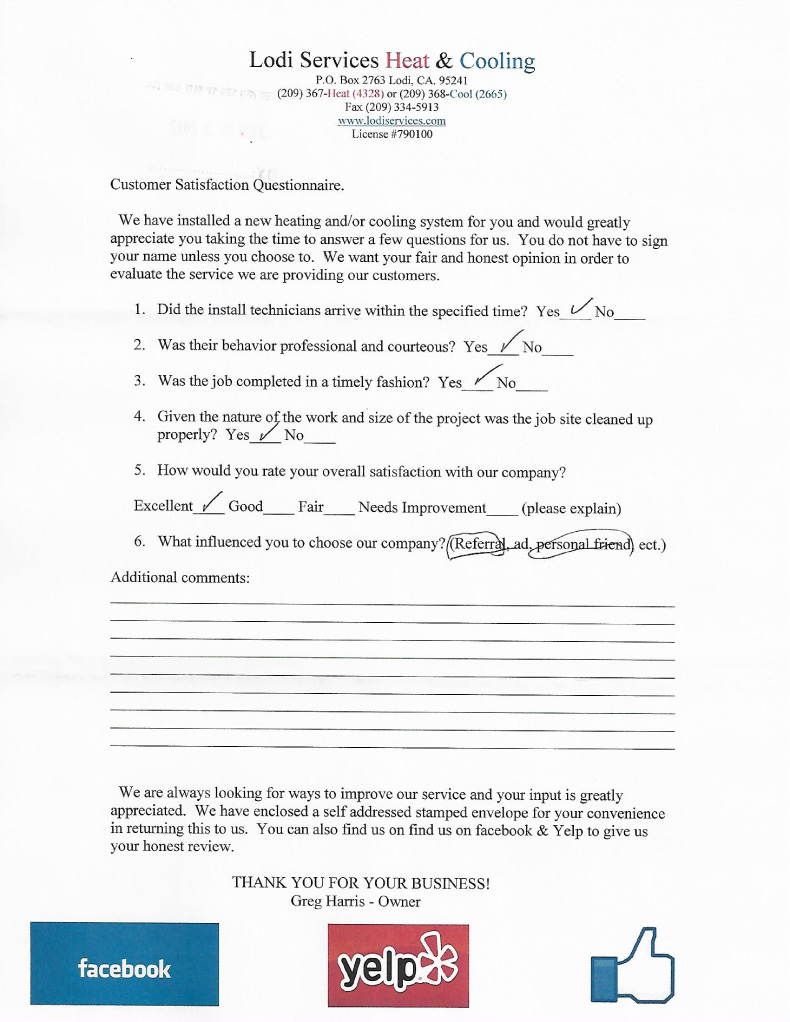 Hi Heather,
Tom and I want to express our thanks and satisfaction to you, Loren, Bob and Jeremy for being so easy to work with and doing superb work!
The guys worked so hard yesterday, never complaining even tho as the day got longer. We were really pleased with their positive attitudes and cleanliness of their work.
We should also thank Gregg for the bid he gave us, even tho it wasn't the cheapest we feel we made the right choice.
Thanks again to all of you, we will be spreading the word and recommending your shop to everyone we can.
Tom and Loretta Valente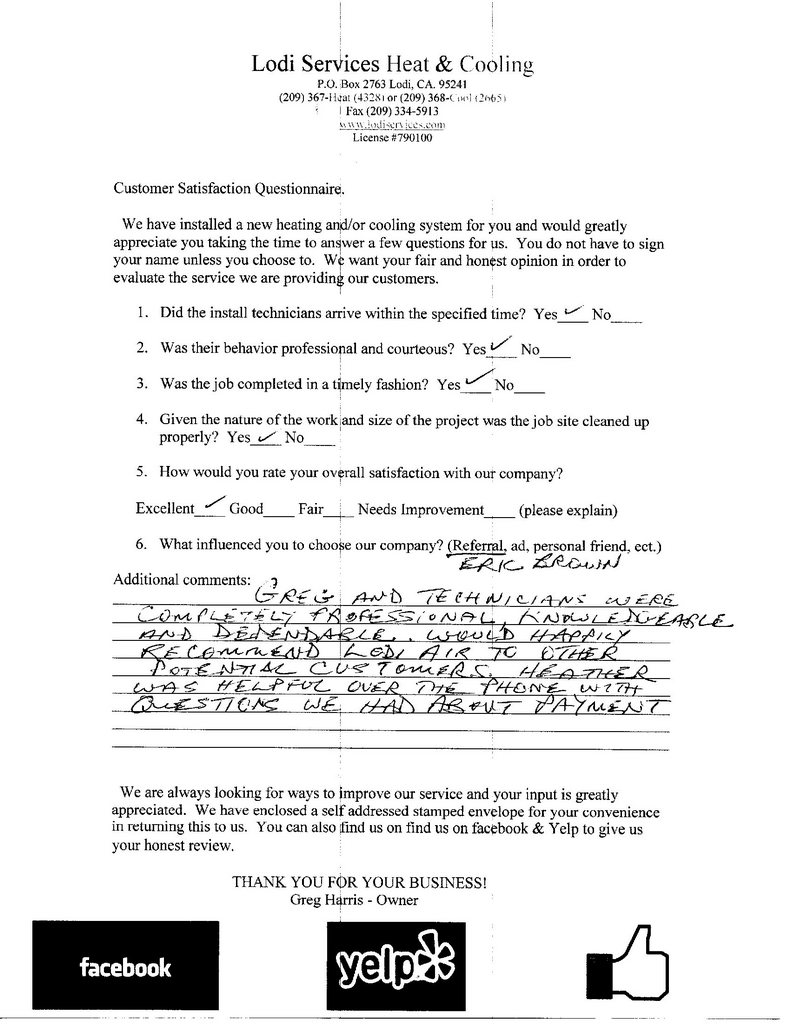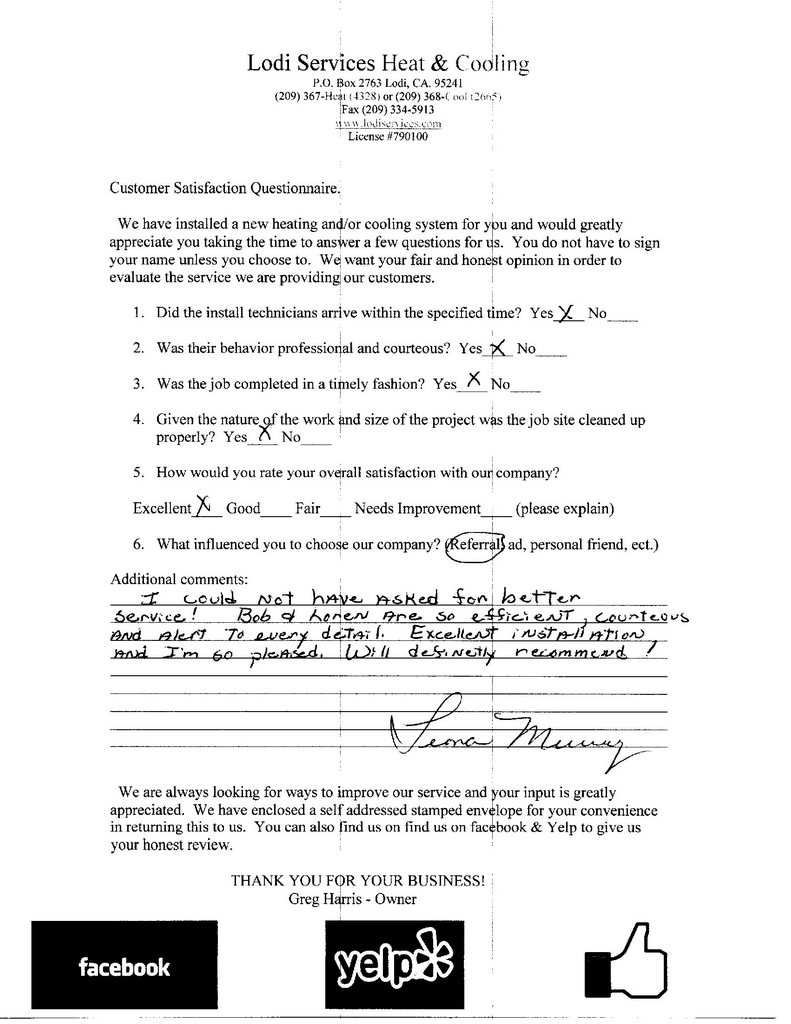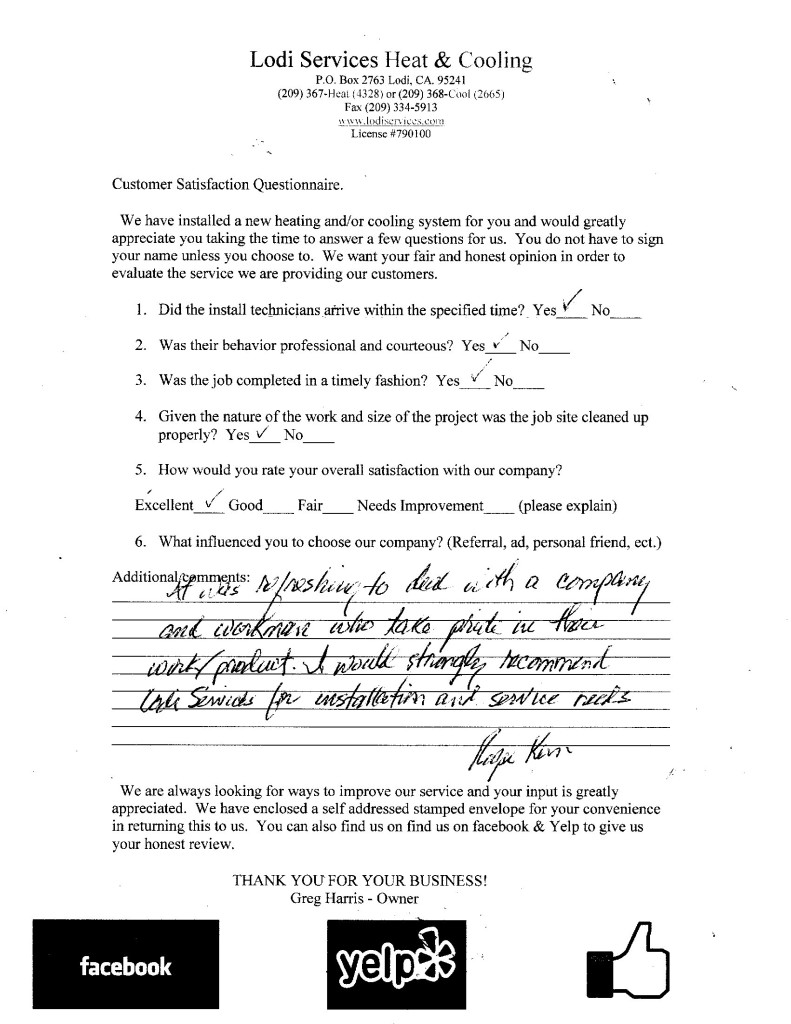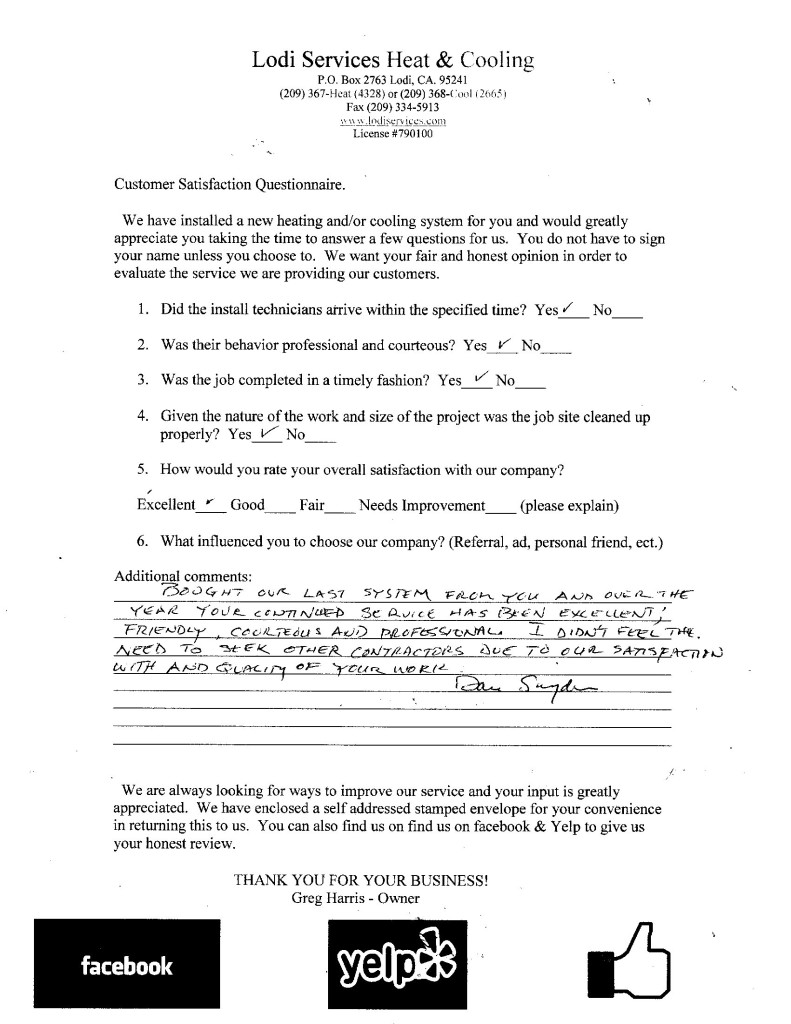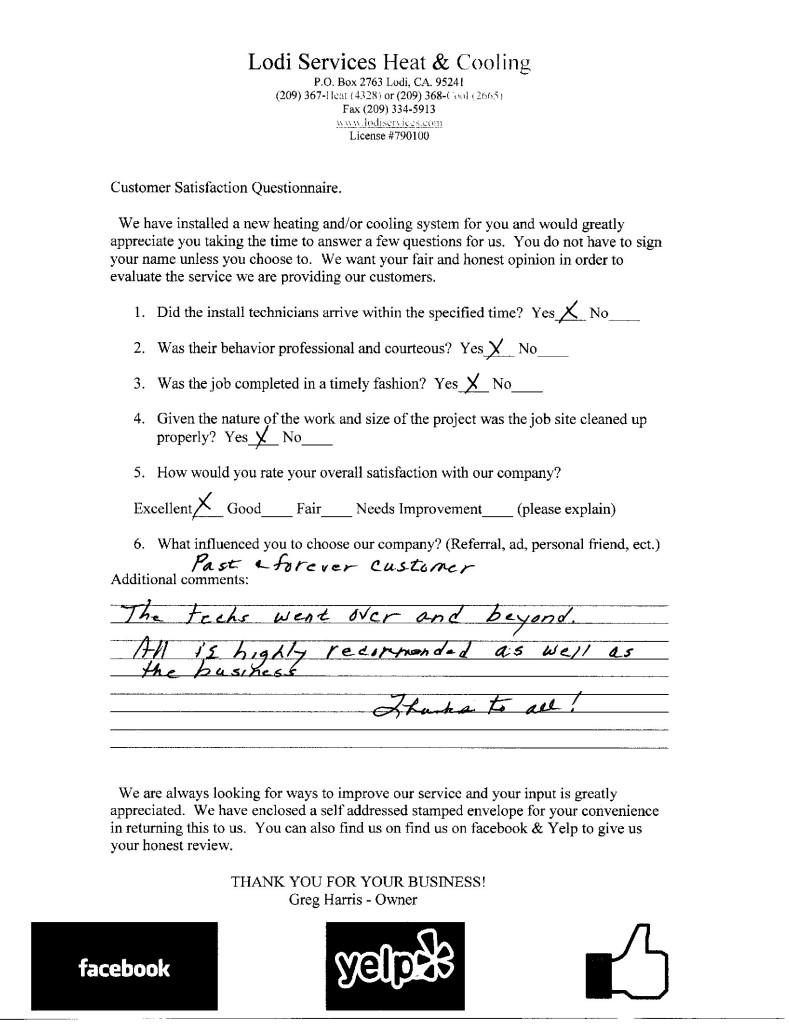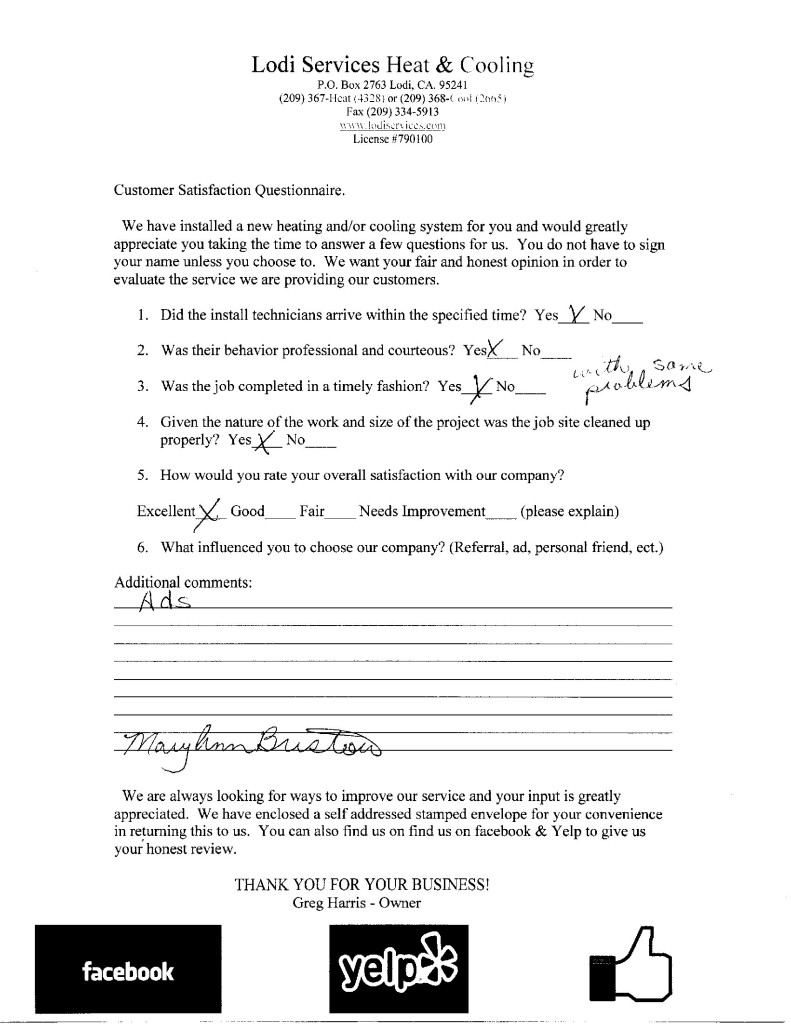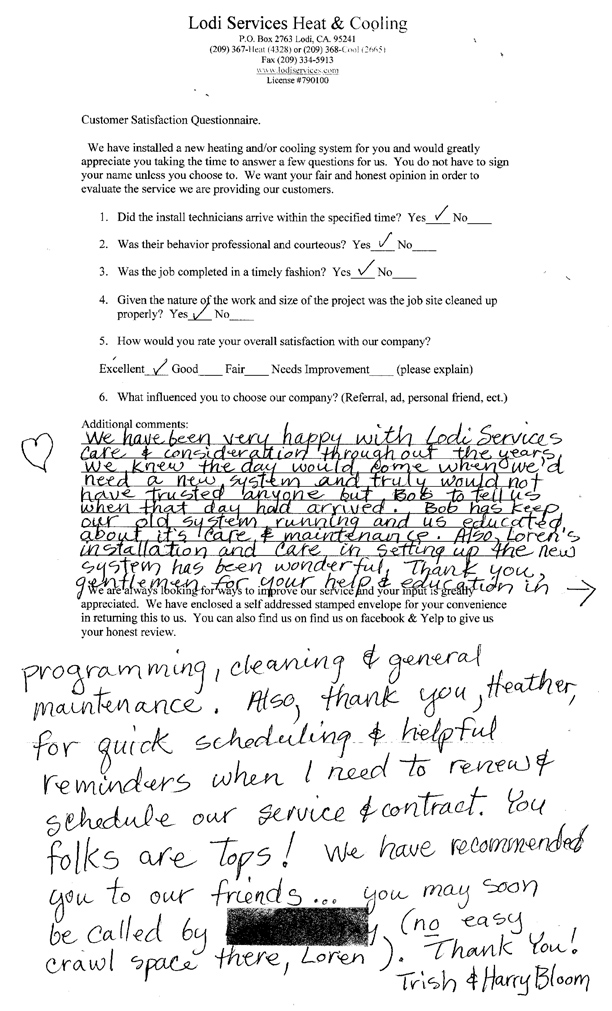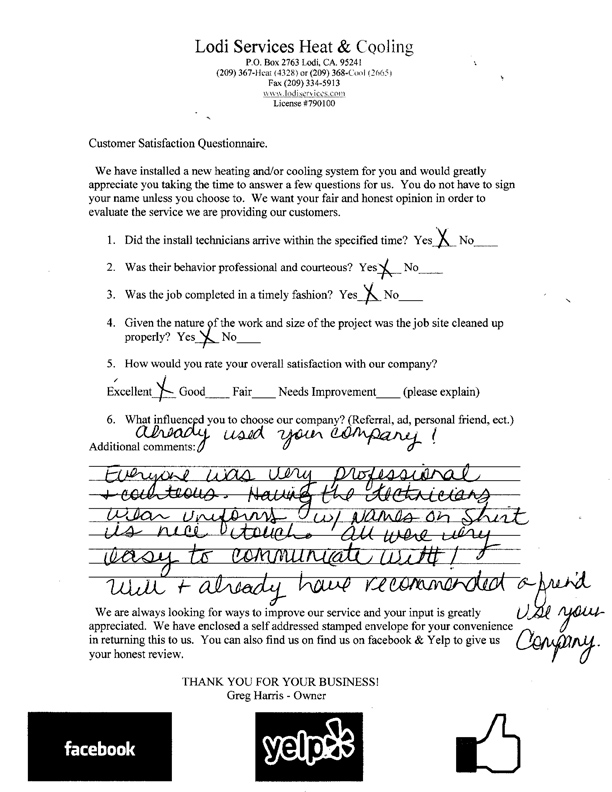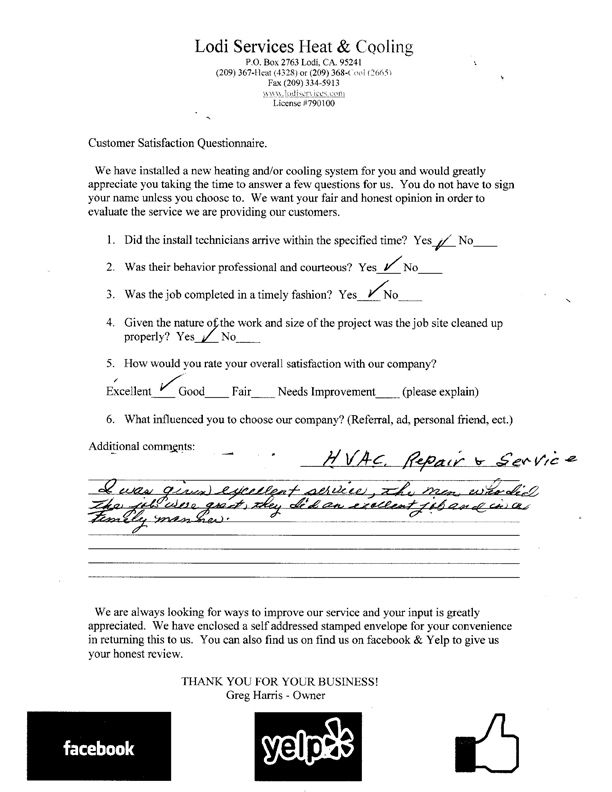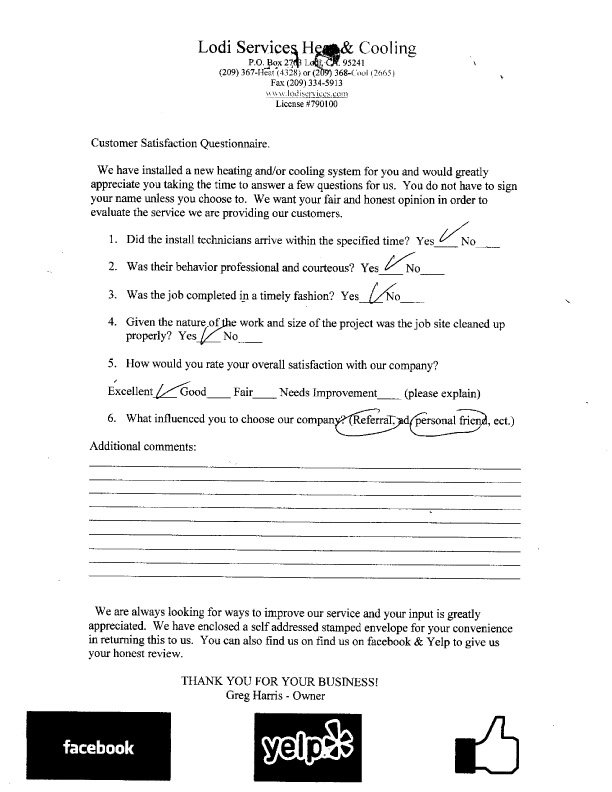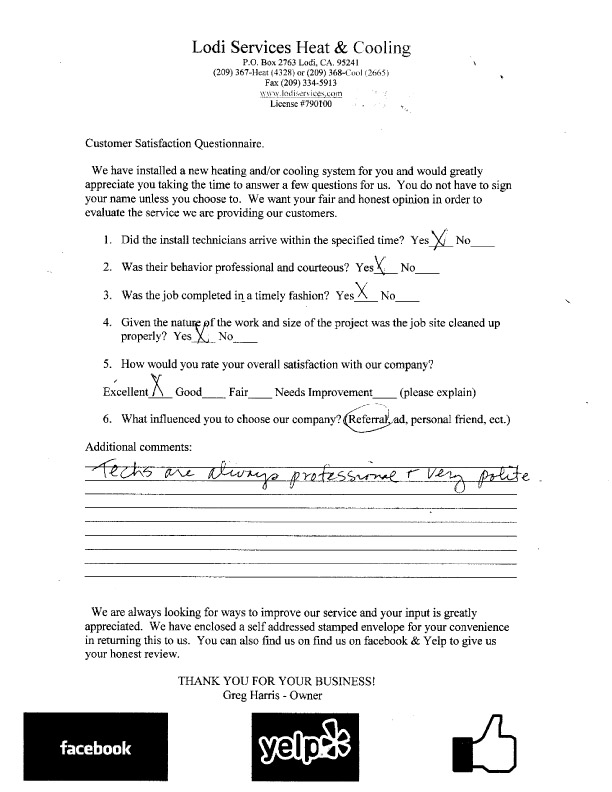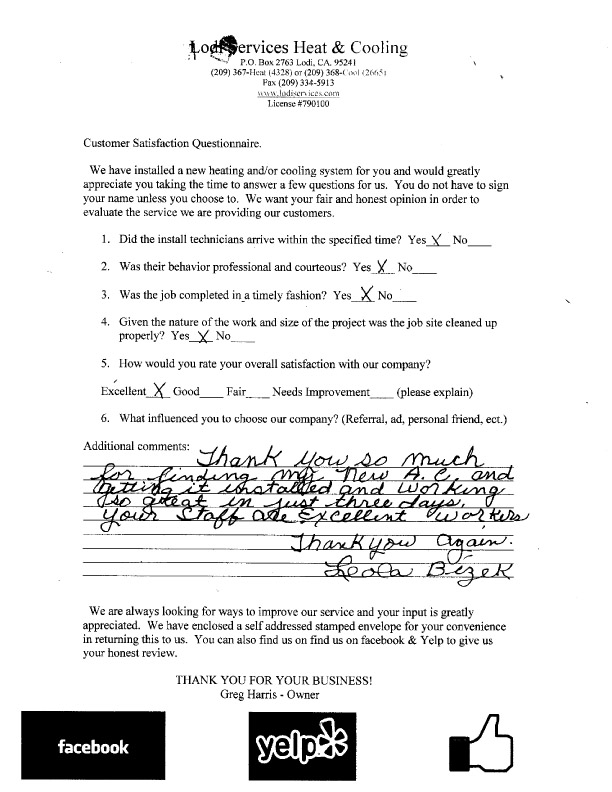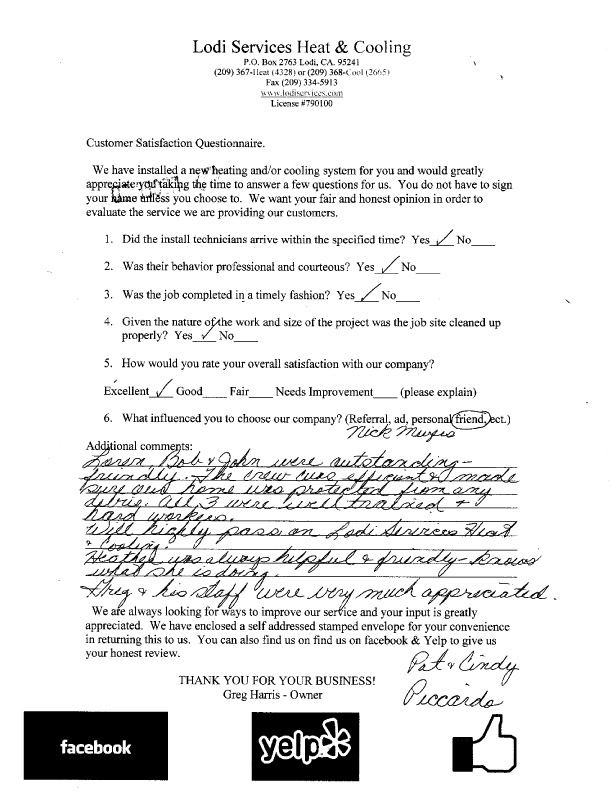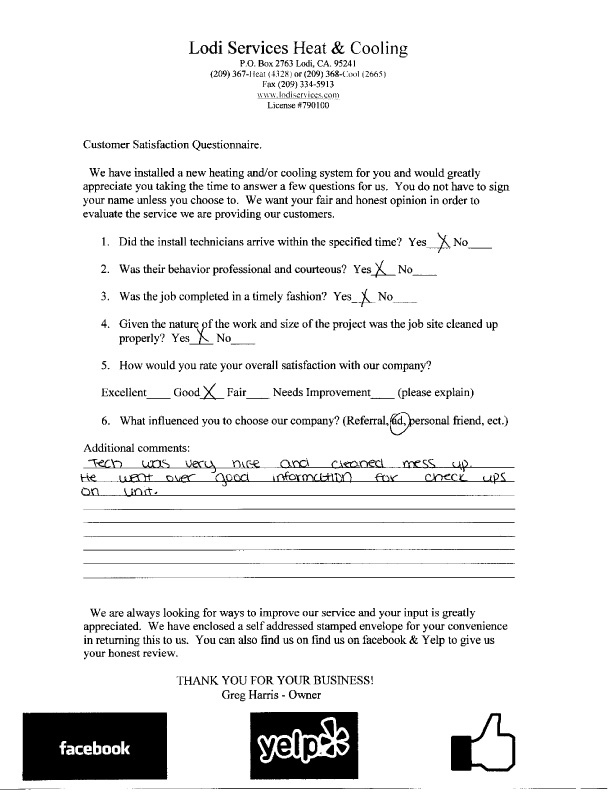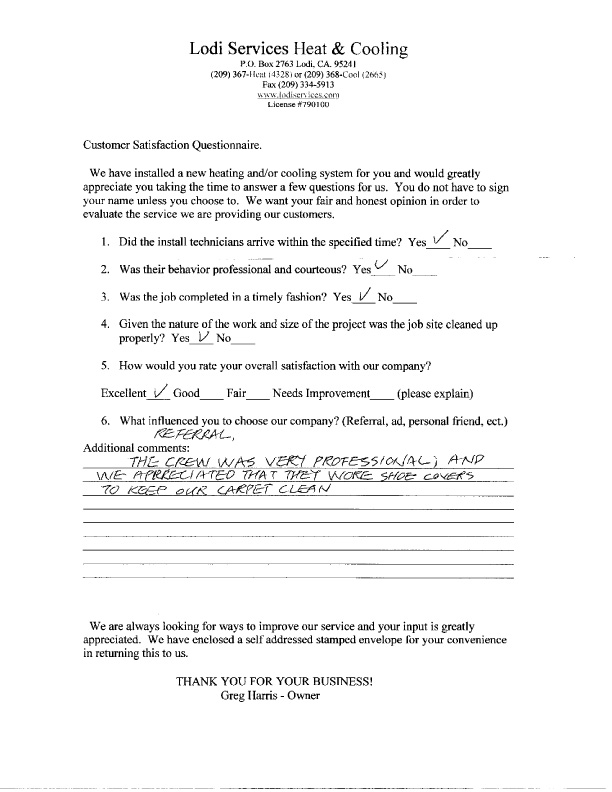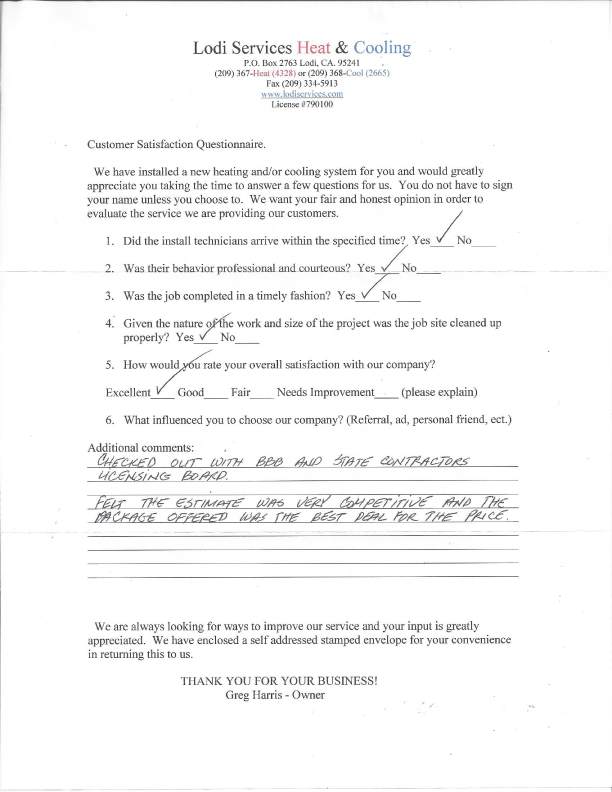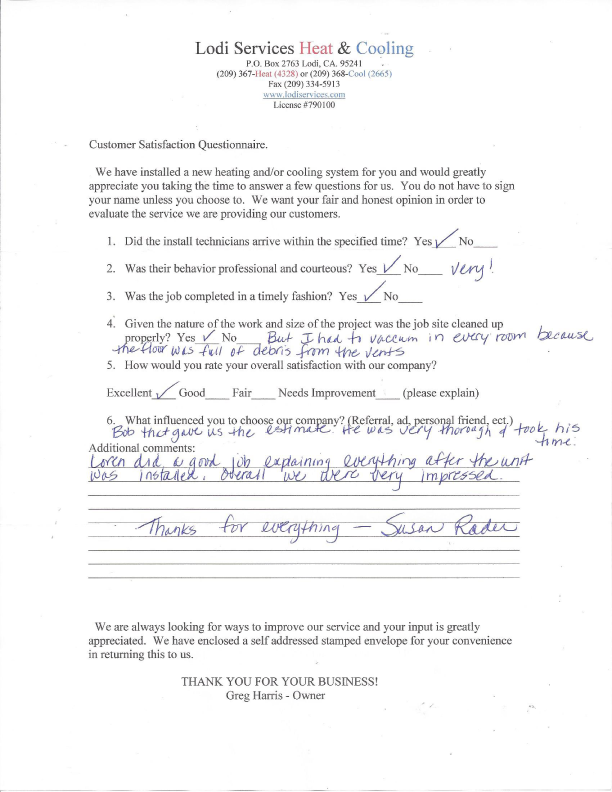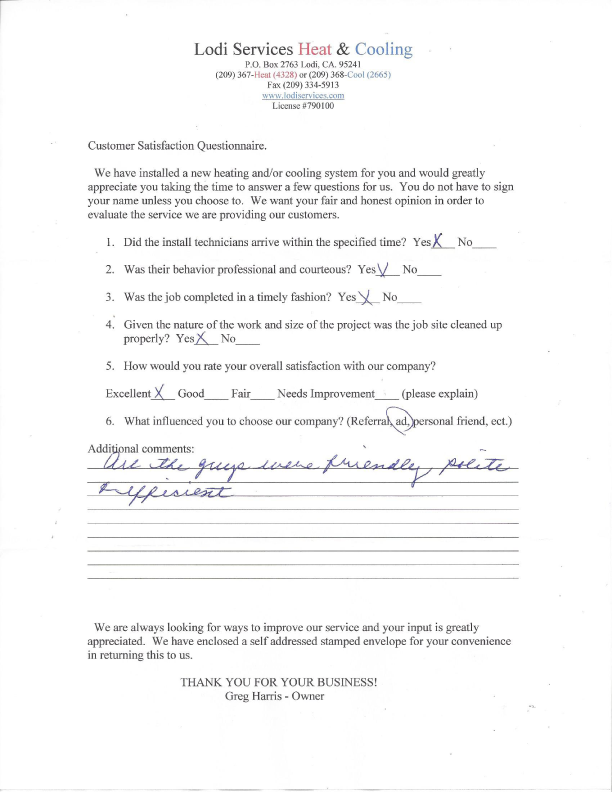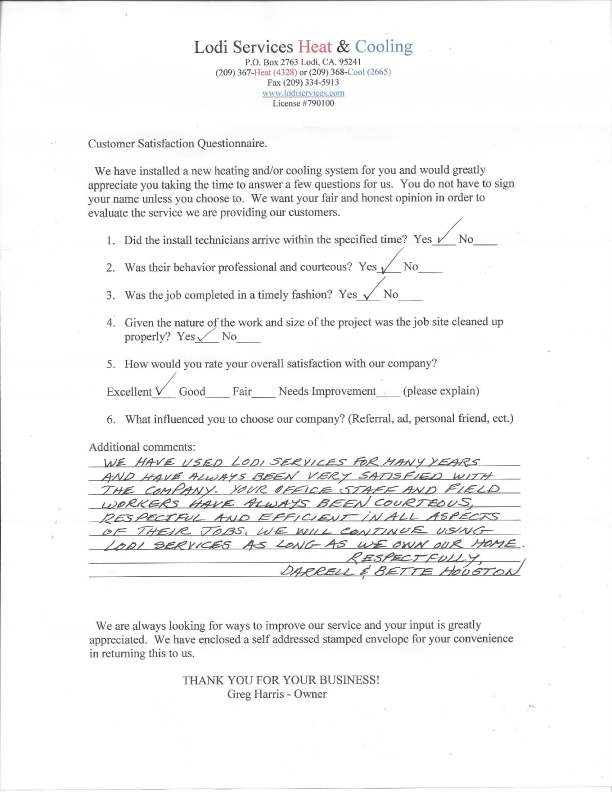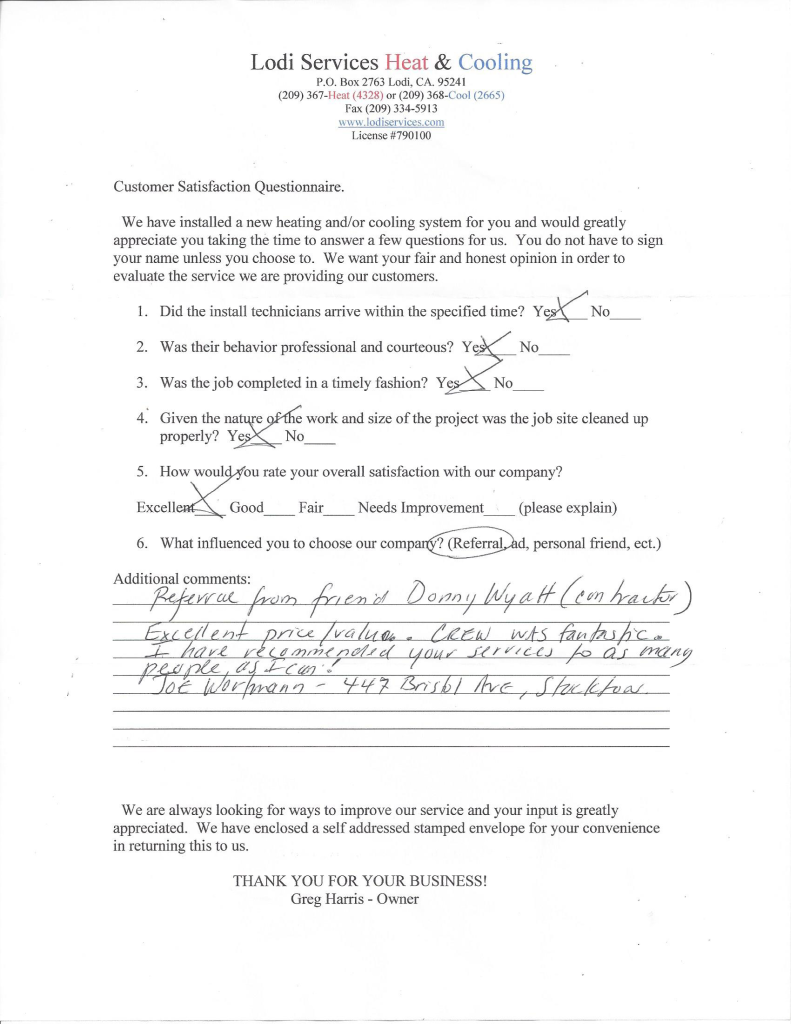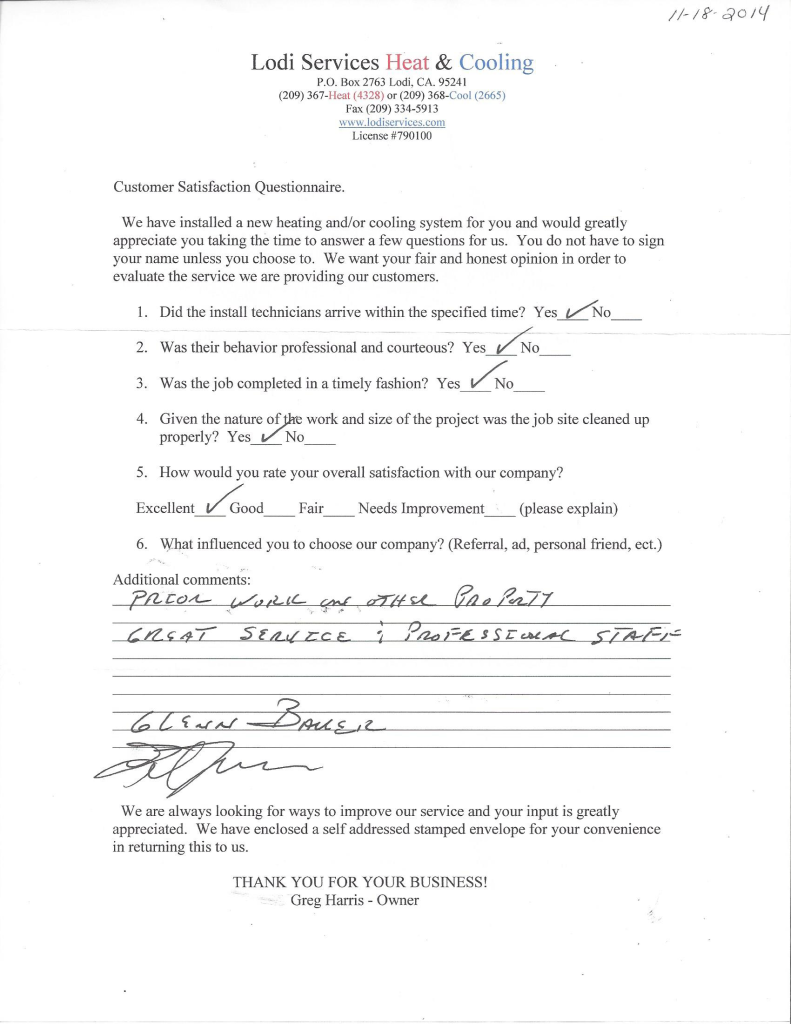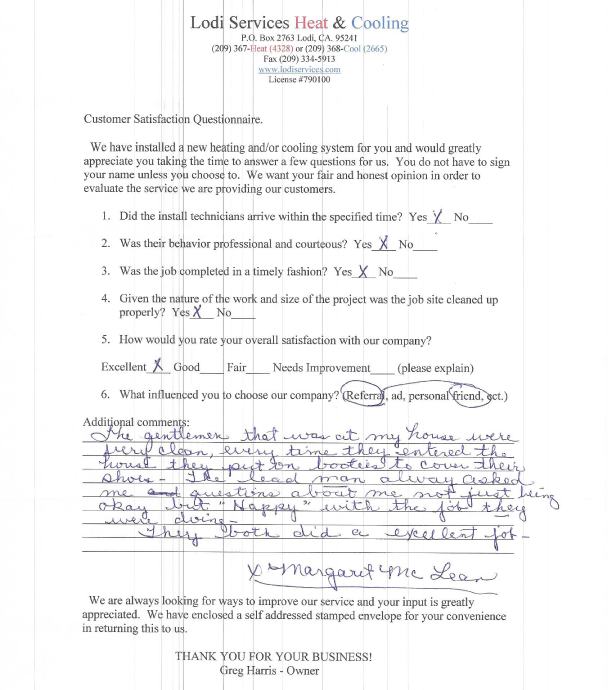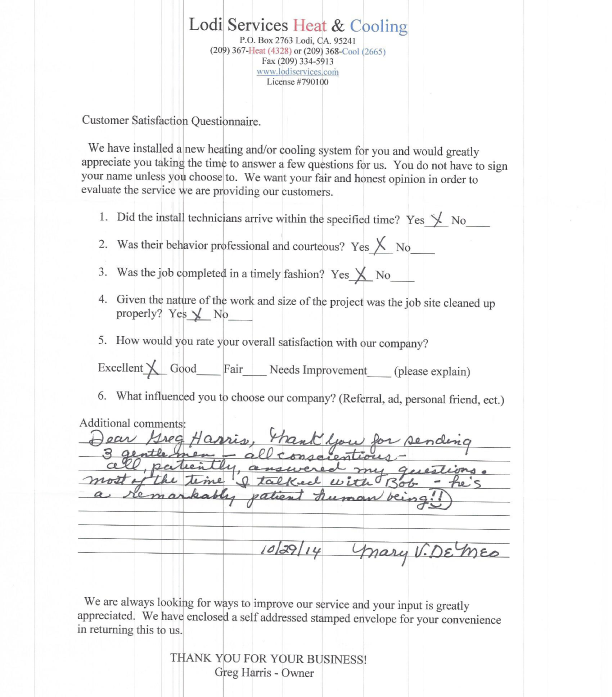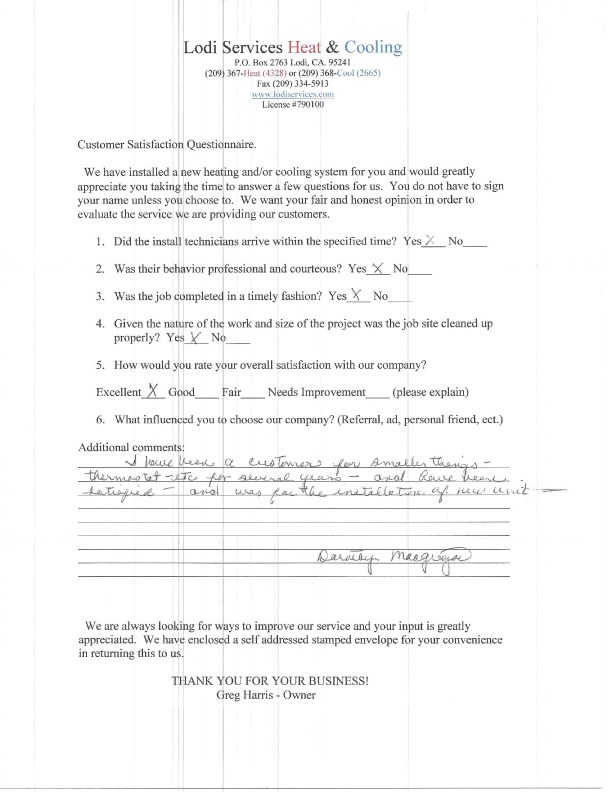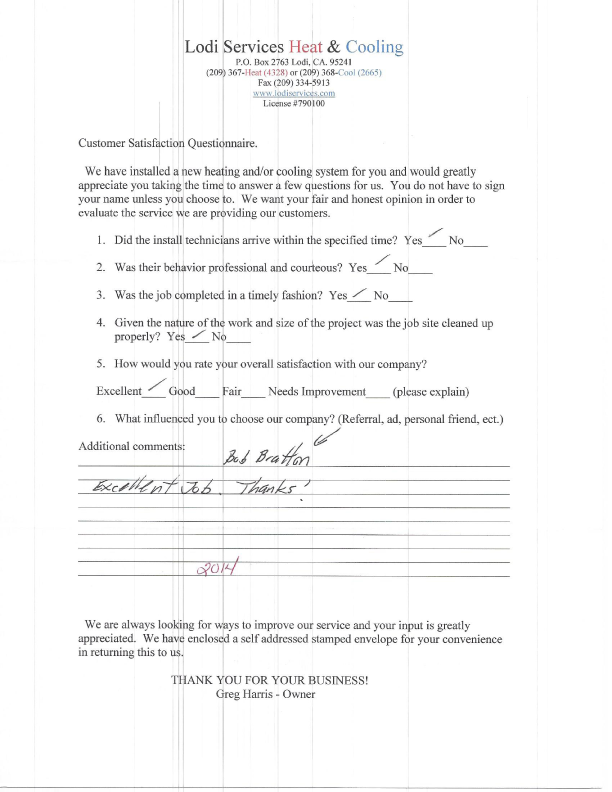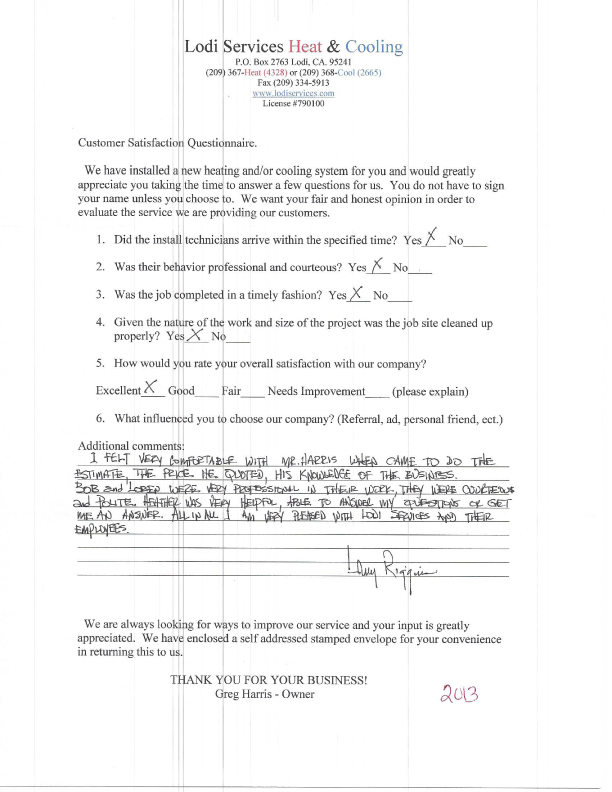 Thank you for all that you did for me. The wonderful job you did putting my furnace in that small space and my air conditioner, to getting all the permits and arranging the duct tests. I wish to say you were always on time. The young man who worked on the furnace did a wonderful job. Everything was left so clean and tidy. Thank you also for the information on the rebates, which I finally received from PG&E. Thank you again,
Jo-Ann Lowrie
Lodi, CA
March 2012
I called and you were so helpful answering my questions. I had almost decided to go with another company but decided to let you give me an estimate. Office personnel & Greg were super. I believe I made the right choice & will be referring you. Thank you for excellent & professional services.
Susie Ollar
Clements, CA
November 16, 2011
My best friend referred us. We were more than satisfied with the owner (Greg) and his wife (Patti) we will definitely recommend anyone in need of your services.
Lorraine Denton
Lodi, CA
December 2, 2011
Thank you for the excellent service.
Joan & Leo Gabriel
Lodi, CA
February 9, 2012
Lodi Services
was the second heating contractor which we contacted. The first was correct in their technical assessment and recommendation that the heater be replaced. However, I questioned how forthcoming they were and the lack of detail presented in discussing alternatives. After consulting with neighbors including a contractor who utilizes your services, I called you for a second opinion. Your assessment, explanation, recommendation and installation of an energy efficient heater was top caliber from start to finish. We look forward to your services in the future and have already recommended
Lodi Services
to friends.
Bob and Juanita Denniger
Acampo, CA
March 21, 2011
I wish to thank You, Bob and Daylan for their professional installation of the Rheem A/C and your entire staff. Bob and Daylan explained every aspect of what they were performing, as the installation moved along. They have represented
Lodi Services
very well and I will be sure to continue doing business with your fine company. I will be pleased to recommend
Lodi Services
to others that may need you.
Robert Hindmarsh
K-2 Logistics Services
Lodi, CA
November 9, 2010
Looking forward to sending clients to you! Best service that I've come across ever, and I'm hard to please.
Paula Hyley
Galt, CA
September 29, 2009
We decided to get four bids and what we liked was that the duct work was actually checked and not assumed it needed to be replaced. Your bid was not the least amount, but we felt we would get the best quality of work. We are very satisfied. We would definitely recommend your company.
Terry and Debbie Aman
Lodi, CA
February 23, 2009
Everyone was extremely thoughtful. I especially appreciated the tarps, etc, to keep dirt down since I hate to clean, and their effort to get the system up and running before the heat wave hit.
Cheryl
Acampo, CA
July 8, 2008
I was delighted that we received the $600 duct rebate! In addition to $50 rebate for two speed AC system. Reasons that influenced my choice included:
NATE certification
Greg Harris' punctuality and professionalism on first meeting
Reasonable estimate
Provided products brochures
Thank you,
C. Moore
Manteca, CA
June 5, 2008
P.S. I would definitely give your company an excellent referral to anyone who inquires.
Lodi Services and Victor,
I would like to thank you for your good work.
Thanks again,
Mary Hendrix
September 25, 2007
July 8, 2008
Lodi Heat and Cooling Services,
We wanted to thank you all. The lady who answers calls, our serviceman Victor, and the wonderful crew who put in a new AC/heat unit in our daughter's home. My husband said the crew there that day was very friendly. That was the hottest day in the end of June. And the crew was the very best of the best. Our family thanks you too. We wanted to let you know how great you all are.
Thanks again,
Al & Dori Smithee
July 9, 2007
Thanks for a great system.
Anonymous Survey Respondant
July 2, 2007
In my position as property manager, vendors play a very important part to successfully complete the tasks assigned, and
Lodi Services
heat and Cooling has always been reliable, responsible, and very reasonable during the four years I have been using its services. The technicians have the knowledge and experience needed to make their job unique reflecting in property managers like myself as a mirror of professionalism.
Thank you, Lodi Services Heat and Cooling, for being AWESOME!
Angela Garcia, Assistant Property Manager
Redefined Property Concepts
Dear Heather,
Over the past two to three years, we have used Lodi Services for all our heating and cooling needs. Lodi Services provides a courteous professional staff, both in the office and in the field. The service men are always on time, professionally competent, and efficient. Recently we had twenty-four apartments that required new heating and air conditioning units. While our apartments were occupied, Lodi Services maintained a clean, well-managed team of professional workmen on the project. I have been very satisfied with the work that Lodi Services Heating and Cooling has provided and can recommend them to others. Their courteous staff has been diligent to achieve a satisfied customer.
Sincerely,
Kimberly Holloway, General Manager
Bali Hai/Outrigger Apartments
April 18, 2007
To Whom it May Concern:
Lodi Services Heat and Cooling has been doing all of our mechanical work for the past several years.
We are extremely pleased with their craftsmanship and quality of work in both residential and commercial work.
We would not hesitate to recommend them for any type of mechanical project.
Sincerely,
Jeff Hamilton
Becker and Hamilton Homes, Inc
April 19, 2007
Hi Greg,
We wanted to thank you and your staff for everything that was done on our behalf. The house is cool and comfortable, the family is smiling.
Phil and Allison Hamilton
Your service person Victor… we liked his promptness and knowledge. Also, you are a local company.
Peggy and John Sinclair
Stockton, CA
March 12, 2007
Referral from Jack Christy. This was a pleasure from start to finish. professional, friendly, informative, tidy, fair and excellant customer service from
Heather
, on the phone.
Bob and Daylan = Great.
Lodi, CA
November 11, 2011